About our Dubhbruja
Our Story
We are Lea and Justin, and in 2009 we moved from Cheshire to Aberdeenshire. We now live near to Fraserburgh in the beautiful Grampian countryside. We share our lives with our wonderful gang of flatties and our son Joshua who visits when he is not working and concentrating on his music career in Leeds. Our move from Cheshire was prompted by the Flatties and our need for more space and a place better suited to them (not often you move the length of the country for your dogs!!!). The house is in a great position but needed a total renovation, some of it is still a work in progress!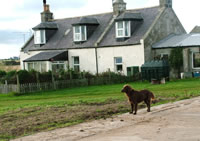 A footpath past the end of our drive takes you on a half mile walk to the links and the gorgeous Grampian coastline where the gang have use of the beach with barely anyone else on it most of the time. We overlook the Loch Of Strathbeg (RSPB nature reserve) from all the front windows, it's lovely and even on a windy, stormy, rainy day it has appeal.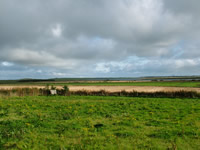 We are at the heart of shooting country in Aberdeenshire too which I suppose is apt us breeding gun dogs and we get a huge number of the worlds pink footed geese arrive every year for the winter. As having a pack of dogs milling about the house throughout the day is a bit of a feat they rotate through the house during the day and take turns to sleep in at night!!! We have even made two rooms into one just to give us enough space for them all to be inside. The gang also have heated kennels to sleep in which Justin has fitted out beautifully for them and they spend their days wandering about in the 4 acres of paddocks and garden.They all love their cosy beds and getting some of the girls out of theirs is a real challenge some days.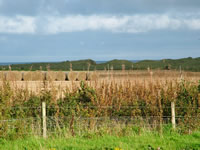 We now have more room for the whelping boxes which is great as we like to raise our puppies for the first 5-5 1/2 weeks in our home as they get to see the telly, hear the Hoover etc., when they start to go over the side of the box at about 5 weeks they move house to a special puppy pen that has been fitted out for them with a heated sleeping pod, plus an inside run and also their own play yard. They get out to the paddocks where they get some wonderful views and loads of space to play in, the plan is to change things around so that they get their own garden space too as puppies love grass under their bellies! They get to meet all the visitors, delivery men, post men and women and generally greet anyone who calls. We are hoping at some point to turn some of the outbuildings into a holiday let (with kennels!), so no excuse for not coming to see us with your flatties then!!! Anyway that's my update about the move and where we live complete please read on for a bit of background about us and the gang.
A bit of History for you!
I always had lots of pets of one kind or another as I grew up cats, dogs, terrapins, fish, pigeons and pheasants and often several at the same time in our home. Granddad was a farmer as was Dad and when Josh was just a baby still in his pram we visited Dad on the farm in Aberdeenshire where we met our first two flat coated retrievers, a big beautiful dog and a lovely little bitch we were struck by their beauty and elegance also by their endless enthusiasm and obvious love for just about everybody, they were so interested in Josh who was still only about 9 months old and insisted on washing his face whenever they could but we never worried that they would hurt him. I didn't see a flat coat again for about 10 years until it turned out that my step mum had two (the parents of our girls Bramble, Willow and Ziva) Justin and I were instantly captivated by them all over again and spent the entire holiday just hanging out with the dogs never actually believing that we'd be lucky enough to own one. Justin had never had a pet of his own, until we had our old cross breed rescue Theo who is sadly no longer with us, he was a stray and came with his own set of problems which we researched and dealt with as we went along, it wasn't always easy owning him but he was always a loyal, loving boy to us and he taught us a lot about dogs with problems.
Anyway several visits later and much to our delight Abby was in pup and actually gave birth to the litter while we were there. This was the first time I played midwife to a Flatty and out of this litter came the lovely Bramble who duly arrived home in Cheshire. As the months went by we grew more and more impressed with her lovely nature and fabulous looks, I found myself staring at her all the time she was so beautiful!
It's written in a book about Flat coats that they are like pheasant and you always needed a brace! And sure enough 18 months after Bramble was born we decided that she really did need a friend and on cue Abby produced another litter and along came Willow, so different from Bramble in many ways but a wonderful character, very pretty and much slower to mature physically than Bram.
After much thought and visiting shows talking to other breeders and letting them see our girls we were convinced by a very well thought of lady in the flatcoat world that we should mate Bramble and later Willow. Wanting to do things properly we decided we should have an Affix, after much debate DubhBruja was settled on (pronounced DooBrewa), Dubh, which is Gaelic for black (a nod to the girls Scottish heritage) and Bruja, which is Spanish for sorceress/witch because Bramble bewitched us (I vetoed Justin offerings of Lug Nuts and rubber legs!), I've had cause to regret the choice when it comes to typing and spelling it!!
Now the proud owner of a kennel club affix we went looking for a stud dog for Bramble and found a very well respected lady who had bred, shown and worked Flat coats for many years and had a wonderful liver dog that had been very successful in the show ring, field trials and gundog work we liked him and she thought Bramble (and Willow also) were lovely examples of the breed so we went ahead with the match. Much to our disappointment the mating was not successful and although we tried again the next time Bramble came in season we still had no success, we came to the conclusion that we were getting the timing wrong. Racing up and down the length of the country was very wearing for both us and her, so we decided to see if we could find our own dog (any excuse for another Flatty)! I was pretty determined and with a few phone calls to various breeders we were lucky to find another successful breeder that had a lovely liver pup just arrived from Ireland and the very handsome Murdoch came along.
Some time later Willow produced her first litter followed closely by Bramble a few months afterwards and the rest is kind of history!
We have learned lots of things as we have gone along and each litter has added to our experience and also to the puppy pack information that we pass on to our puppies families. We try to get to know our prospective families, asking for vet references and much more information so that we make sure that they are aware of the needs of a flatcoat before we consider letting one of our puppies go to them, we will gently refuse a family if we feel that a flatcoat is not right for them. We are always sad to see our little charges go but 90% of people stay in touch and many I am happy to say are now friends that we are in contact with all the time (an ever growing list on Facebook!). Getting photos and updates is fantastic and you will see lots photos of puppies/dogs on the gallery sent to us by proud families, staying in touch with them all makes it so much easier to let them go, as does the fact that the families we pick are such great people!
Anyway a few years after Bram and Willow came their niece Echo and then Ziva (well we couldn't turn away another of Abbies' babies could we) and just to add to the growing flatty family Luna one of Willows babies stayed with us as well. We have added girls and boys to the mix as we have gone along, with an eye to quality, good temperament and diversity in our flatties. We like to keep our own girls and bring in out cross boys to shake up the genes and are very lucky to own some handsome boys and very beautiful girls as a result.
Now we don't show (not thick skinned enough really), we also have no wish to drag the dogs up and down the country or stop our lovely flatties from going for a swim in the sea because it will damage their coats! But that has not stopped our former puppies going on to be shown with some success, 3 qualifying for crufts and two going down to compete, which is great, just because it's not our cup of tea it doesn't mean we are against it.
We also don't shoot, mostly because I have no particular liking for killing things and don't say what do you breed gundogs for, it's not the dogs that do the shooting!! But we have lots of our puppies now grown and working well, either in field trials or on shoots, several who are booked for the whole season I may add and that is very gratifying, one who was picking up for a real VIP in 2017. We have several that are registered PAT/Therapet/Dementia dogs, some doing agility and fly ball and many who are doing extremely well with their obedience training gaining silvers and gold's in the Kennel Club Good Citizen courses and also lots who are just very happy family pets.
Along the way we have had some criticism from certain quarters for not showing or shooting, apparently that makes us less worthy to breed Flatcoats, up until now I've refused to acknowledge this or to give it time and effort on our web site but after being reasonably quiet since 2013 (as far as we were aware), again in 2017 someone reared their v.ugly head with another pot shot at us that is unfounded/uninformed but upsetting all the same.
The flack has come a few ways one is complaints to our local dog warden (whom we had introduced ourselves to years before and who finds absolutely no problem with us, our dogs or our puppies). The people who make these reports and allegations come from people who live hundreds of miles away from us and have never seen us or our dogs. What's worse is that the veiled insinuations that there is something wrong with us and our kennel are made by members of societies who supposedly love flatcoats, these people tell families that enquire about puppies to go elsewhere, to paraphrase something that was said in an email "can't say anything definite you know and certainly can't say anything in an e.mail, but there have been complaints about them, no no don't go to them, I've actually just had a litter myself" Other rumours and slander have come from people who we refused to sell a puppy to for varying reasons but they now have an axe to grind and are stupid enough to actually post these things on Facebook etc. We heard in 2019 from someone who had been told by another breeder to stay away from us in 2017, luckily they made their own minds up and have now have a puppy of ours. 
The only complaints are unfounded ones made by themselves and the reason they can not put anything on paper or tell anyone enquiring anything definite is there is nothing to tell, it's all nasty hearsay and tittle-tattle put about by nasty people, these are people who should know better (people in glass houses etc.) who have never taken the trouble to meet us or our dogs, but it doesn't stop them slandering us, we would have liked to get to know them but they attacked us and what we do before we ever had the chance and so now we feel disinclined to talk to them, I am sure that their happy go lucky, non judgmental, lovable flatties would be ashamed of them if they could understand such things.
You don't have to be a jockey to know how to breed a good racehorse and the same goes for this, we know what qualities to look for in a dog for shooting and successfully pick puppies for certain people for just that reason and we know what a flatcoat should look like (that's conformation folks!), act like and move like! We only breed from our best boys and girls who have been chosen carefully, we do all the health tests required and look after our boys and girls in a manner that makes them healthy, happy, fulfilled flatties. We send away flatty puppies that are confident, physically and mentally sound and support our extended flatty families as little or as much as each of them need. We are very careful when we vet people. We hold our families hands through the whole process of buying a puppy and beyond.
We have actually bought back dogs where the families could no longer keep them because of marital break up (traveling hundreds of miles to collect one dog in question) and have helped re-home a dog who's family emigrated but would have taken him ourselves if no one suitable could have been found. We rehome very few dogs becuase we try to make sure the right puppy goes to the right family. We are always there for our former puppies and take our responsibility very seriously, to my thinking that makes us good breeders, ask any of our former puppies families. We are, I am pleased to say, here to stay and will carry on with the intention of improving on the girls and boys we have and just as importantly loving our flatties and making sure that people know what a great breed they really are.
It's recently been suggested that I should remove the three paragraphs above about the negativity we have suffered in case people think there must be something wrong with us if they are saying these things and I have considered it believe me because it's unpleasant and hurtful to have to say that people say nasty things about us, but I feel thats like telling someone who was mugged they shouldn't talk about it because people will think it's their fault for going out at night. WE are not in the wrong here and I feel I have to stand up for us. The one thing I will say is that for anyone reading this and thinking 'well no smoke without fire' please go onto the testimonials page or better still go to our Facebook page, see the posts when this issue has been raised and talk to the people there who own one of our puppies, scroll through and see the lovely and supportive comments made by our families and people whow know us on a personal level, pick up the phone and speak to me and then make an informed decision. 
So anyway that's where we are up to 12 flatcoats (at the moment!), one son who thinks we are slightly mad but loves the flatties anyway and lots and lots of good friends made through our flatties!
We never ever imagined that we would be lucky enough to own so many wonderful flat coated retrievers, it's hard work but you get out of them what you put in and they are worth every second of our time.