Dubhbruja Puppies
Please read our "What to expect from Dubhbruja Kennels before and after your puppy is born!" article - HERE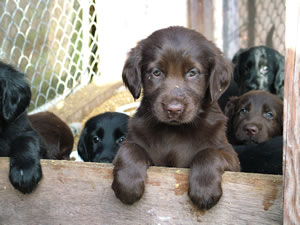 All our puppies are born in the house and spend the first 5 weeks of their life happily in the living room in a whelping box where we make sure they are well socialised, they see the whole range of household activities from the hoover and television to teenagers and electric guitars. When the little devils begin to do a Steve McQueen over the side they move to a day pen where they get lots more space (which enables them to start using a separate toilet facility, very important to flatties as they are such clean dogs right from an early age and a whelping box can get very messy with a number of big puppies!), they get the run of the yard and come in and harass me while I am cooking in the kitchen and for cuddles at night so the best of all worlds.
We give them their first inoculation and vet check at 6 weeks (fully wormed etc.) We provide a wealth of information for the day to day running of a puppy such as dog dynamics (how to stay the top dogs in your household), advice on introducing your children and other dogs to your puppy, house training (very easily managed with a Flatcoat). We send you out pre-collection info about two weeks before the big day (or dogmas day as one of our families christened it!) with reminders on the things you may need to buy (non bio washing powder to take out the odour from little accidents, stair gates and newspapers/puppy pads), 4 weeks free insurance with pet plan and of course our lifelong support is included in the package if and when you need it (just no getting rid of us)!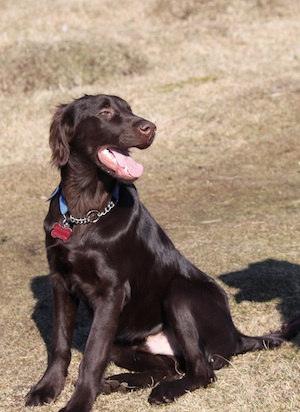 For people who live some distance from us and would struggle to manage a second visit to Aberdeenshire to collect their puppy, I.e Cornwall and Somerset, we can sometimes arrange to courier your puppy down as far as Cheshire, this is always dependent on enough people from the litter wanting to use the service and is subject to a fee.
We pride ourselves on producing happy, healthy, confident puppies who have never know anything but affection, lots of attention and unconditional love from the whole family. We try to get photos of the whole litter out to everyone at least once a week and more often if your particular puppy does something photo worthy, along with a quick update so that you are involved and get to know them right from the baby stage. We post videos of the puppies on YouTube when broadband speeds allow! If you want to visit and see your puppy (distance allowing) several times before you finally pick them up that's ok too (we had one lady who visited for a couple of hours every week from 4 weeks to 9 weeks old)!
Please don't feel like you are on parade when you first come to see us and the gang, we do like to get to know you before we let a puppy go to you but we do try not to make it a Spanish inquisition! Oh and please don't wear your best bib tucker Murdy will mug you!!!
We do not insist that our puppies go where they will shoot or enter the show ring but many of them are undergoing their gundog training, a few of them are working and booked up for the season and excelling, people with no interest in the field before they had a gundog find that with a dog capable of doing the job they fancy having a go at it themselves (see Baxter's testimonial) and both humans and canines alike are enjoying learning a new skill. The puppies doing obedience are generally the stars of their particular classes and some are going on to be shown quite successfully. We have puppies doing agility and also a couple who are registered PAT dogs.
We are always at the end of the phone for help and advice and stay in touch with nearly all our puppies and their families, we often get photos and updates (as you can see from our gallery) and best of all visits to see how they are growing up (all gorgeous of course!) We are very please to call many of our puppies families our friends.
If you are interested in a Dubhbruja puppy please drop us a line or give us a call, tell us something about yourself and family and why you have chosen a Flatty as your next life companion, we like to get to know you. Also the more we know about you the better we can advise you on the right puppy for you and your family. We are always happy to put you in touch with other families who have one of our puppies!
So if you want an affectionate, tactile, lively mate who likes to wash your ears and thinks that everyone in the whole world is their friend why not give a Flatcoat a try you will never want for an enthusiastic cuddle again!!